A sermon drawn, quite literally, from John 15:1-17 .  The message was prepared as part of a virtual sermon exchange this past weekend with good friend Pastor Sara Bishop.  Pastor Sara delivered this message to her congregation in Estonia, while I delivered a message she prepared for my congregation, Bethesda Lutheran, in Ames Iowa.  
What do you have to do to become Christ's chosen one? The answer fortunately is simple: NOTHING.
So often we view relationship with our Creator as something to be worked for, to be earned. We find ourselves occasionally believing that to connect with the cosmos is an achievement, an act requiring considerable effort on our part. It's almost as if we're trying out to make the divinity football team, hoping our talents in running, passing, and ability to shoot on goal are enough to be chosen. Do you, right now, have what it takes to make the professional divinity team? If you answer no then more perhaps more practice is in order.
Fortunately this mindset, of the need to practice, to do works, all in the hopes of making the celestial All-Star divinity team that lands directly in the heavens, well, it just doesn't jive with John 15. You did not choose me, but I chose you, Christ reminds us.
Transactions
And how refreshing that seems when much of our day-to-day is lived within a transactional framework. If you want something, usually, you have to give up something in return.
To earn money requires your time, your mental capacity, your physical body.
Other transactions involve not you, but things. Things that, if you have enough purchasing power, can be attained. To put food on the table you must give up some of those hard-earned wages. To have housing, have electricity, to access the internet, to give your children Christmas gifts, all of this involves trading one thing for another. Things are scarce resources, involve careful decision-making, all in the hopes they meet needs, for you, for loved ones. And, if you are lucky, sometimes you even get to acquire a few wants and throw those into the mix too.
And then there is my favorite type of transaction, one where not money is exchanged, only goods. A decade ago I had an old 1994 Volkswagen Jetta, and was looking to sell it. After advertising locally very few people were interested. I lived in South Florida at the time, a tropical climate, about three hours south of Disneyworld, and this car had no air conditioning. In the summer it got HOT.
Our family had already purchased another vehicle, and this old VW, gathering dust in the garage was essentially worthless to me. One day, after months of inaction, someone called and expressed interest in trading, one vehicle for another. He had a super sweet metallic-blue 1973 VW Super Beetle, the kind that's air-cooled, engine in back, trunk in the front. He asked if I'd be interested; sure, I've always wanted one of those. We then prepared to exchange paperwork to make the trade official. But as we looked up the value of our Volkswagens it turns out his, even though 20 years older than mine, was worth about 500 dollars more.
Not wanting to spend money I asked if he liked video games. Why yes, he did, and an hour later he drove off in the '94 VW Jetta with a trunkload of Atari, Nintendo and Sega video games, leaving me that super sweet '73 Super Beetle. Transaction complete, we were both extremely happy.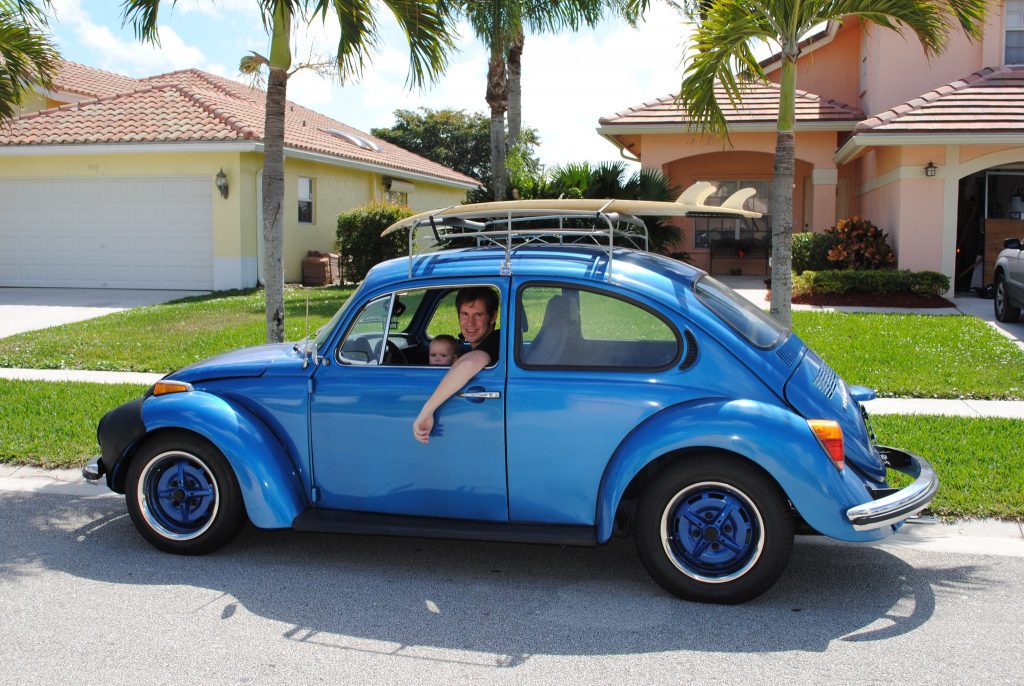 Chosen Ones
But – and this is amazingly fortuitous – none of this transactional mindset, as central as it is to our daily lives, none of it applies when we speak of our relationship with Christ. For all that's needed has already been done through the life, death and resurrection narrative that culminates in Easter.
So instead of a to-do list with ample check-boxes needing to be crossed off we are instead given a blank slate, a clean, empty piece of paper. Already chosen children of God what then shall we do? We take that blank paper, and, just as a bright-eyed, high-energy child given a fresh, unused box of new crayons would do, we pick a few favorite colors and get to the business at hand: we create.
We draw, we doodle, we make masterpieces. Over time we grow into those masterpieces. But we are not left alone in this endeavor, the handbook containing all the tips and tricks of creating our life's artwork is only an arm's length away.  What handbook is this?  Ancient scripture, of course.  And the handbook's author can hardly wait for us to turn divine revelation into here-and-now practice.
So what, dear child of God, a masterpiece in your own right, what masterpieces shall you, in this life, create? Today's drawings come right out of the handbook of John 15.
Stay connected
First, from your box of crayons remove four colors; ready them for use: the blue, the green, the purple and the brown. Prepare to draw the first 8 verses of John 15.
God the Father is the vinegrower, we're told, the gardener with endless skills. God waters, giving life, and prunes branches devoid of life too. Christ is the vine, growing alongside us, full of life, bearing much fruit. Abide with me, Christ beckons, for apart from me we can do nothing. As you begin to draw consider green for those branches with life, brown for those without. Pick up the blue crayon, create raindrops from the heavens, those drops spur the vine's growth. Finally add in some purple, drawing fruit, hanging from the green branches, making them grapes, or berries, or the exquisitely exotic passionfruit.
Step back, consider your masterpiece. Reflect on how the handbook asks you to live into it. Prepare to be watered by your Creator, prepare to grow. Abide with Christ, stay close, for therein you yield fruit. And where branches wither be open to pruning, even if it hurts a little. Hint: It will hurt a little. Once pruned God's celestial raindrops redirect to Christ's life-giving branches, spurring new growth, new fruits, new beauty in your masterpiece.
Live (and Love) as Friends
Now turn the page, let's color the next nine verses in the handbook of John 15. Jesus does something unprecedented, unique in scripture, he calls us not slaves, but friends. Draw yourself with Christ, perhaps you're walking, or talking, or laughing. The word love is used *eight* times here in just a few sentences. Repetition signals importance, and here a command: love one another as I have loved you. Pick more crayons up and draw more friends. Connect those friends to you. Friends connected, in turn, to Christ. What about all that love? Perhaps a red crayon and hearts aplenty in this image are in order.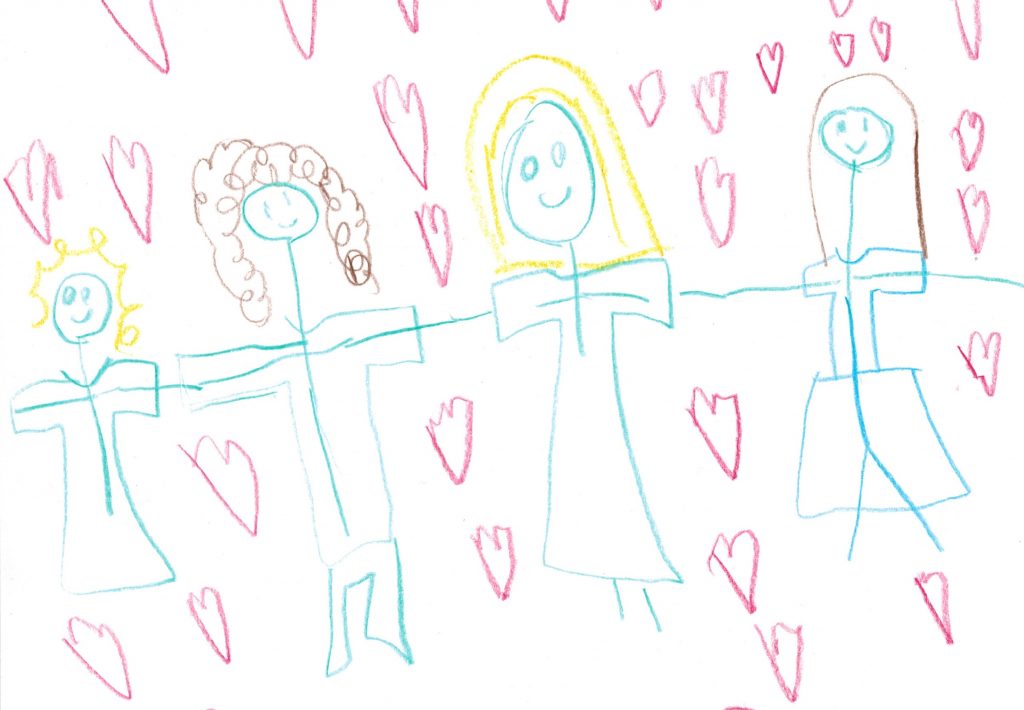 For as chosen ones, already the Son of God's hand-picked elect, the spiritual activity of your days is not transactional in nature. And it isn't spent seeking higher heavenly rank. Instead you are called to create a masterpiece, in the here and now, drawing on a deepening of relationship, between you, our Creator and our Savior. And equally as important you are called to connect to others, as friends, modeling the love, and the friendship, of Christ.  Amen.